Newsticker
| | |
| --- | --- |
| 2019-02-03 - Installer updated - now supporting Debian 9 (stretch) and Ubuntu 18.04. LTS |   |
the auto installer has been updated to support debian 9 stretch and ubuntu 18.04 LTS
| | |
| --- | --- |
| 2017-10-17 - Phonenumber is beeing ported, temporary not available via phone |   |
Because of ongoing phone number porting, or office is currently reachable via email only. If you need to contact us, please use support@smart-weblications.de
| | |
| --- | --- |
| 2017-03-11 22:23:00 - Report from Cluster-Upgrades between 01.03.2017 and 11.03.2017 completed successfully |   |
Report from Cluster-Upgrades between 01.03.2017 and 11.03.2017 completed successfully

we have successfully upgraded our complete cluster infrastructure. The upgrade included full upgrade of all nodes from Debian 7 Wheezy to Debian 8 Jessie. We also did move to Linux Kernel 4.4 to improve network troughput. All services have been migrated to systemd, and the cluster stack has also been upgraded to corosync2.

We upgraded to qemu 2.6.2 and libvirt 2.4 to provide more features like snapshotting in the future.

The upgrade took 11 days to complete.
| | |
| --- | --- |
| 25.01.2016 - better usability and more functions |   |
We have heavily reworked our backend and frontend to give some new features to you:

- kvm online resize

You can resize a server via the webinterface. HDD upgrade is possible in realtime! CPU and Memory upgrades require a restart.

- option to reset vnc password was implemented in the bootmenu

- set own label for a server

- dumped userlike.de external chatsoftware, created own livechat with jsxc.org

- added option to easily create a new server

- added single sign on with google or facebook
| | |
| --- | --- |
| 2013-11-23 - KVM-VServer: Performance Screenshot W2K8 Guest |   |
We updated our Cluster to the latest ceph stable version 0.72.1. This upgrade improves further more performance: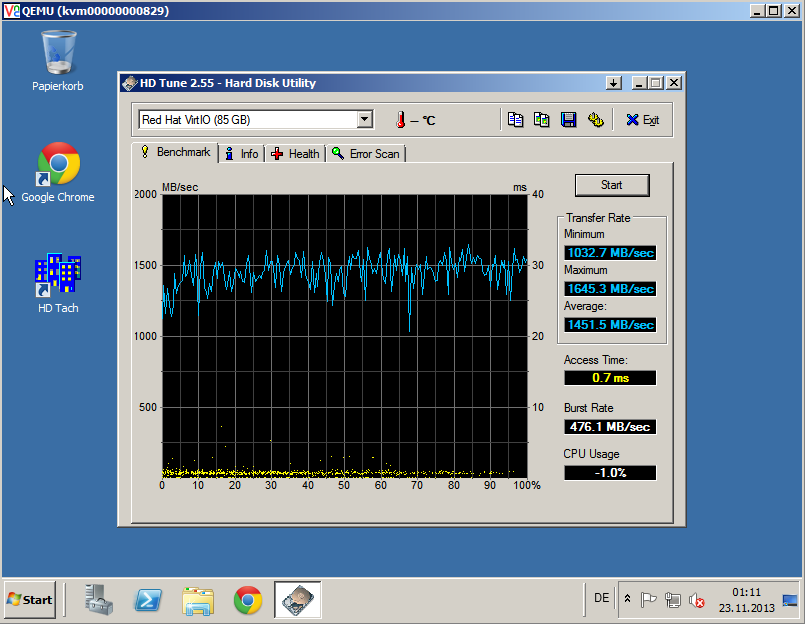 Benchmark with 1MB blocksize, unlimited Disk-IO and 4 Cores, 4 GB RAM, normal KVM VServer have Disk-IO Limit at 50MB/s read, 30MB/s write.